Split screen
It is now possible to split the Agenda, the Group Chat, Minutes, Private Notes and Webinar controls into a separate column. This allows you to see the participants, a shared screen and the group chat or webinar questions at the same time.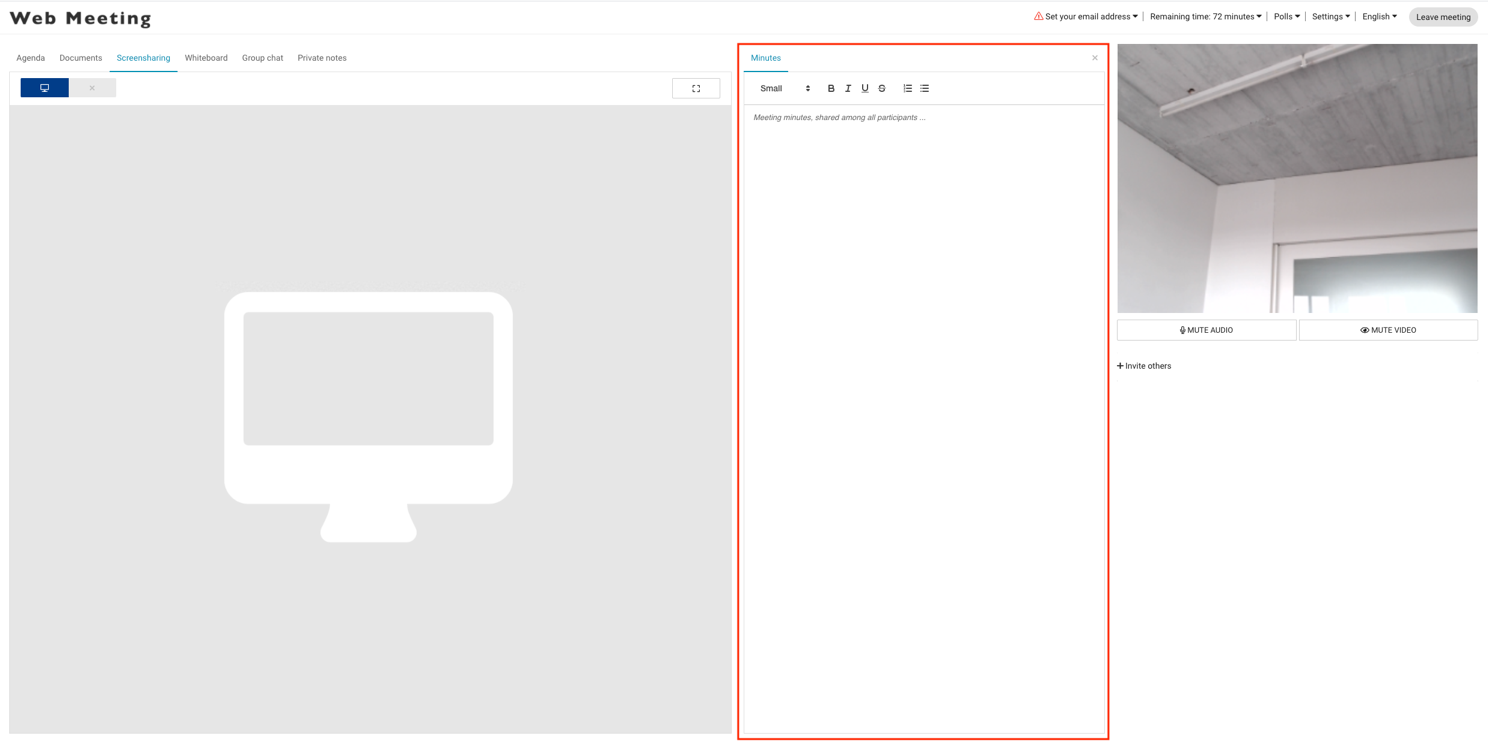 You can also hide the participants altogether to have an even bigger collaboration space: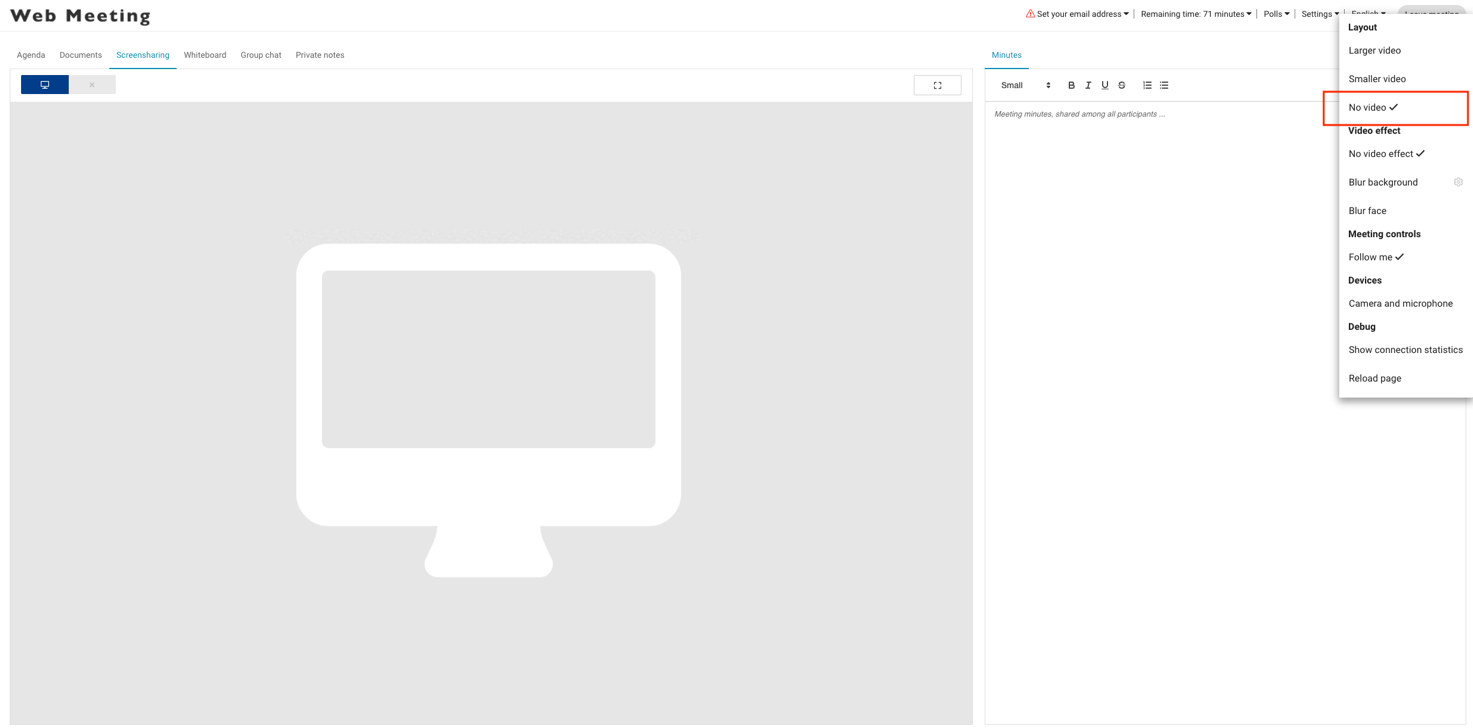 Meeting registrations forms
You might want to invite users to a webinar or group discussion, but you don't know yet who will attend. This new feature allows you to create a registration form for your meeting. You can then publish the form on your website so that users can register for your event.
You can create multiple forms that you can re-use for different meetings: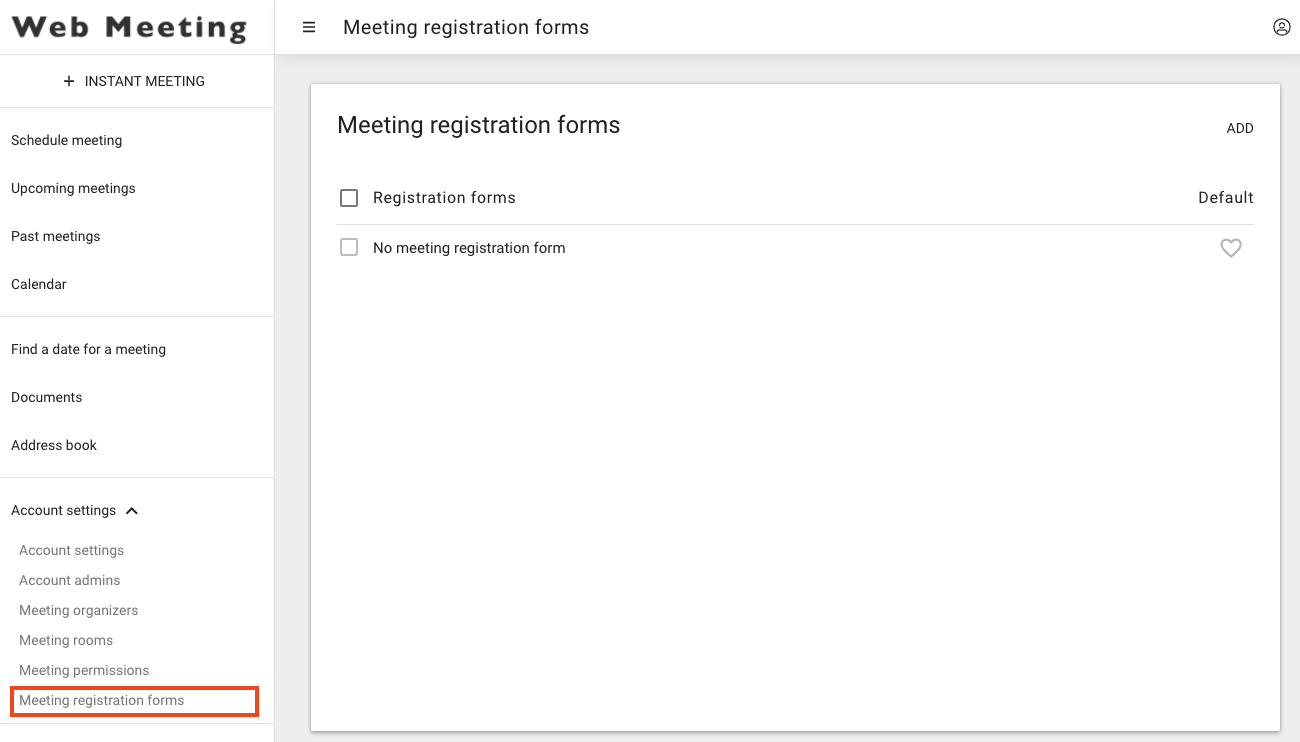 Clicking on "Add" brings users to a form editor that allows them to freely define their own registration form: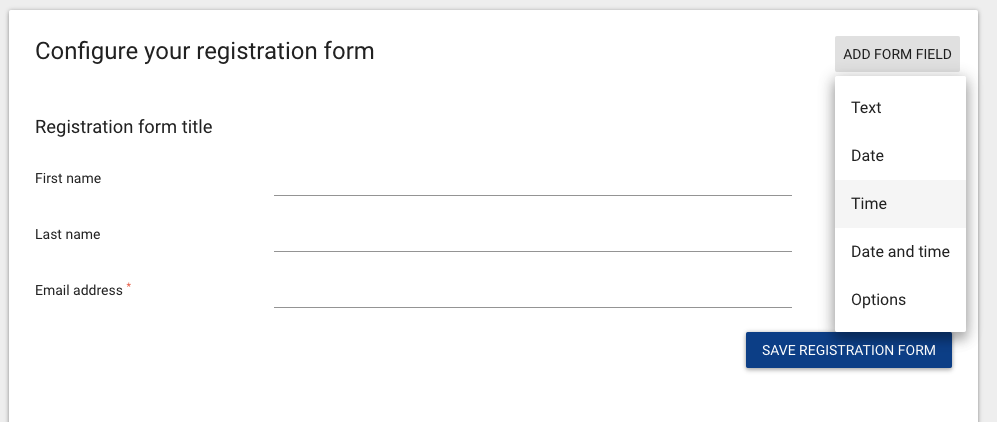 Once you have created a registration form you can attach the form to your meeting: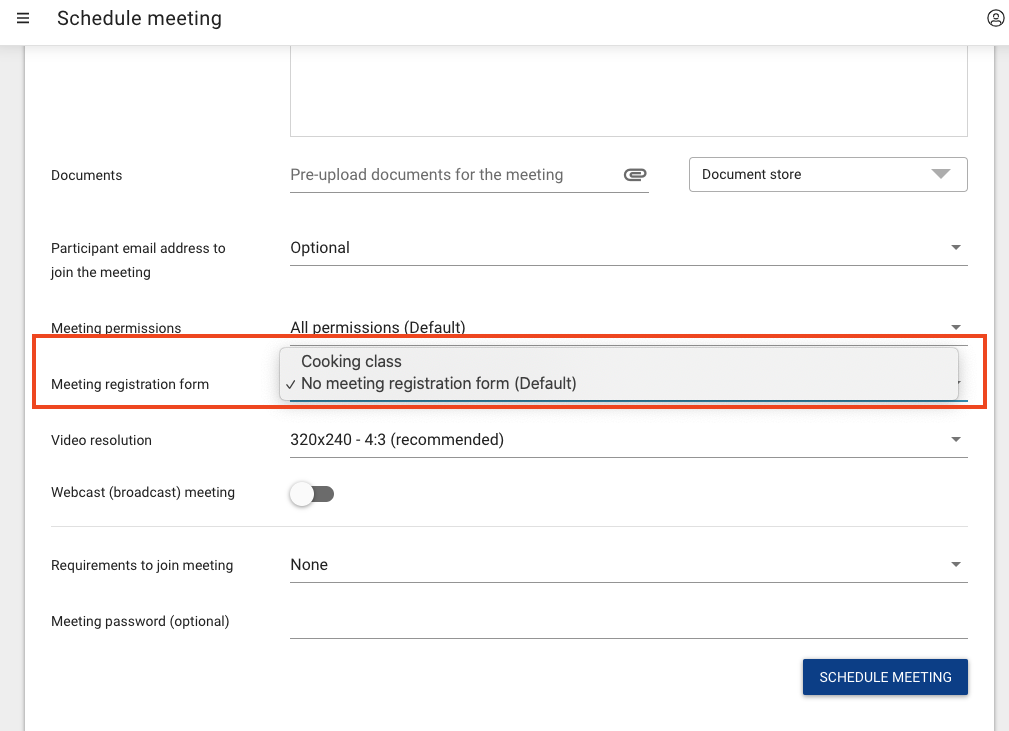 Finally, the registration data will be available to the meeting organizer on the meeting summary screen. You can now copy the Meeting Registration Form link and publish it on your website.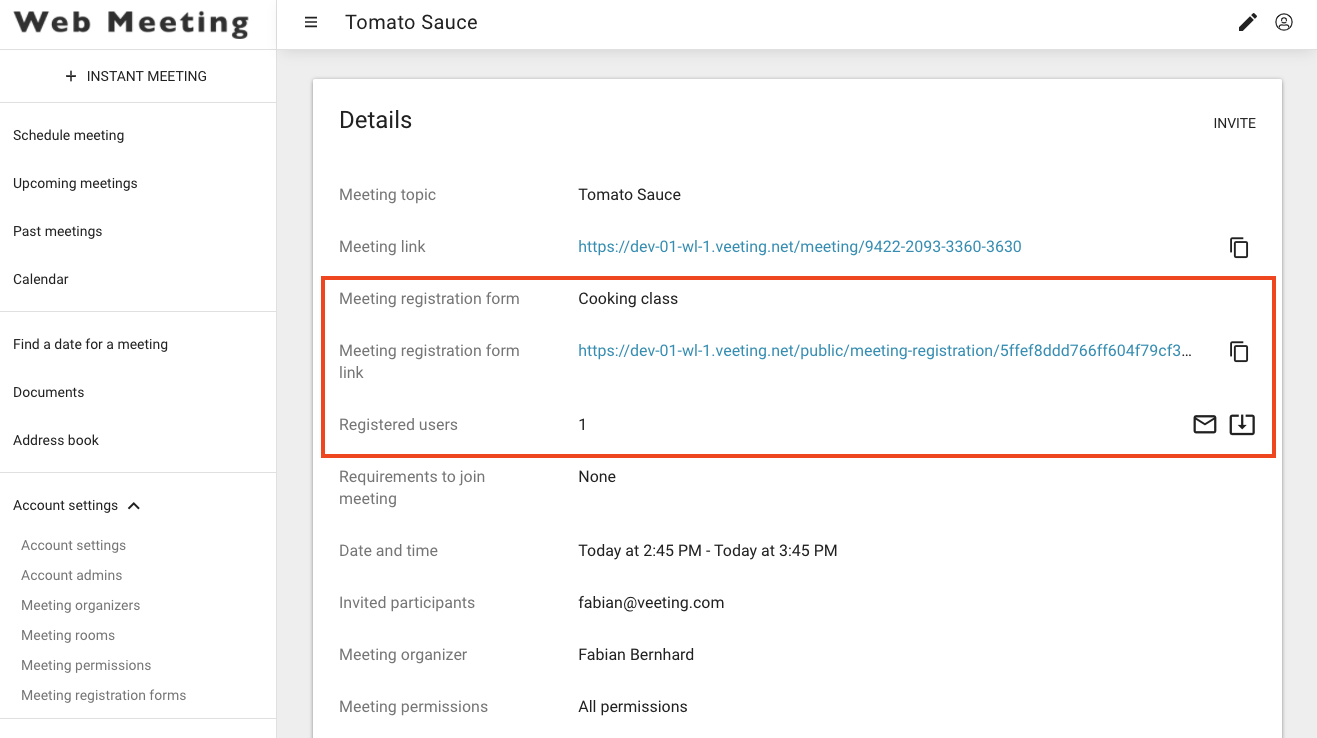 Meeting room
We now store the current state of the "Follow me" feature in the local storage and automatically activate it the next time you join a meeting.

We don't display the error message "already joined" anymore when a participant joins twice in the same browser session. Instead, we automatically close the previously joined session.

We now show the participant name in the upper right hand side corner when hovering over the image, instead of displaying it on top of a white background.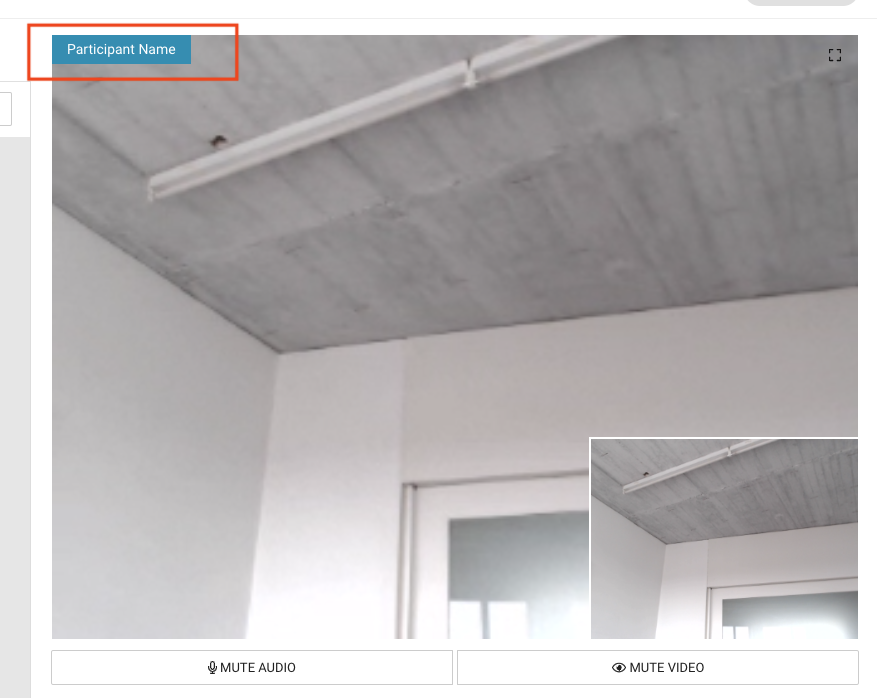 Meeting joined and left sounds: we don't play those sounds anymore as soon as 10 people are in the room

Meeting closing sound: we now also play a sound 5 minutes before the meeting room closes.

Meeting closing notification: we now also display the notifications in fullscreen mode

We display an explicit message "This meeting is off the record" for OTR meetings, similar to "This meeting is recorded"

iOS: if link opened in web view, Chrome, etc., show message "copy this link and open it in Safari" to make it easier for iOS users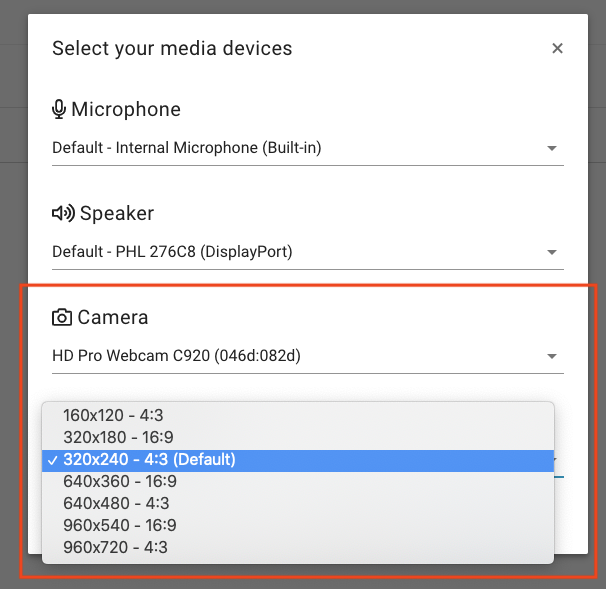 Webinar
We highlight Webinar moderators in the list of participants

We sort the list of participants alphabetically rather than by join time

You can now filter the list of participants (available when there are more than 10 participants)
Named rooms
It is now possible to receive email notifications if someone joins a named room

It is now possible to apply meeting permissions to named rooms

It is now possible to set a password for named rooms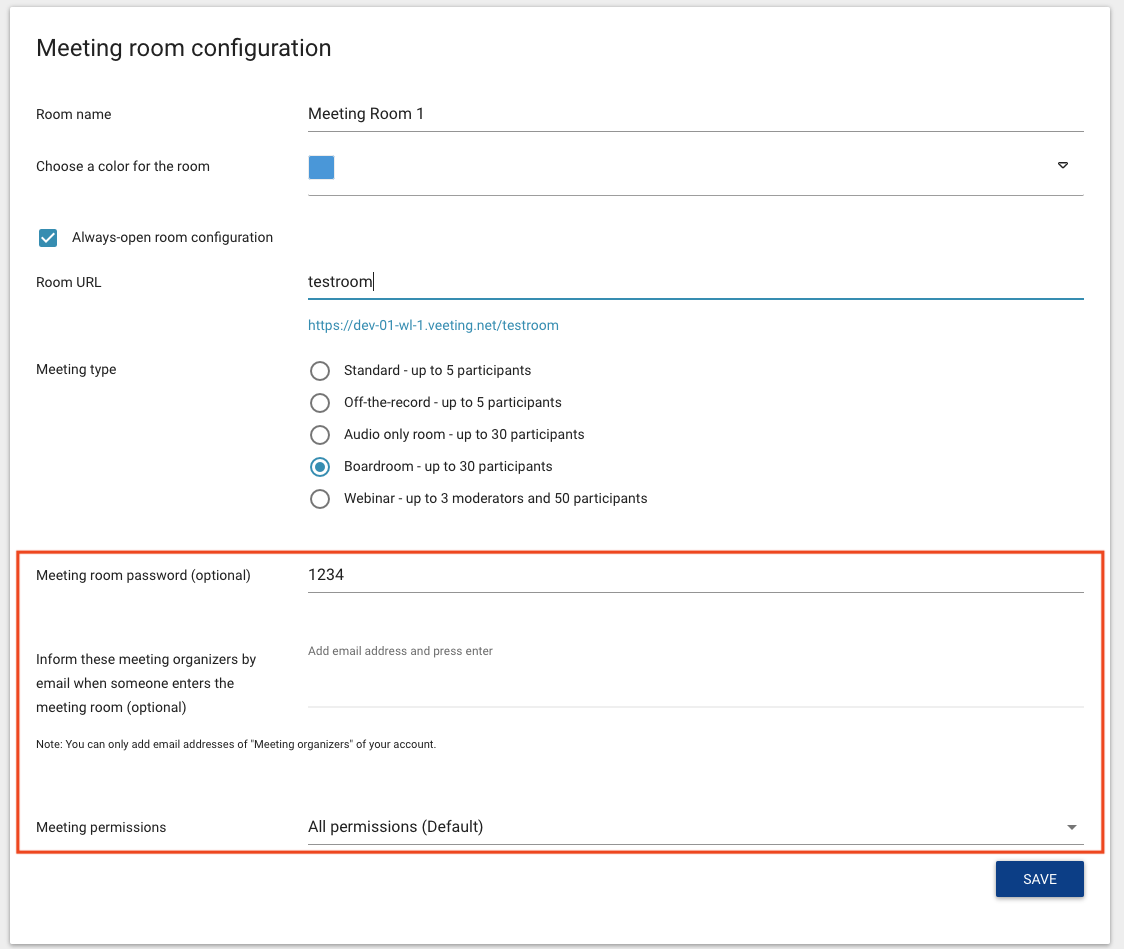 Find a date for a meeting
We now display the number of answers in the list of polls and highlight polls that are not active anymore

We added a horizontal scrollbar to screen where dates can be picked to make it more obvious that one can vertically scroll the list

The organizer can now schedule a meeting with one click

We now use same date picker as in schedule meeting for times

You can now opt-in to hide email addresses of participants (they will only be visible to the organiser of the poll)
Data privacy
Hide email addresses of invitees from Calendar invite. This will also hide the invitees and participants from the meeting summary.

Attempt to send the invitation as "Private" (does not work with all Calendar applications)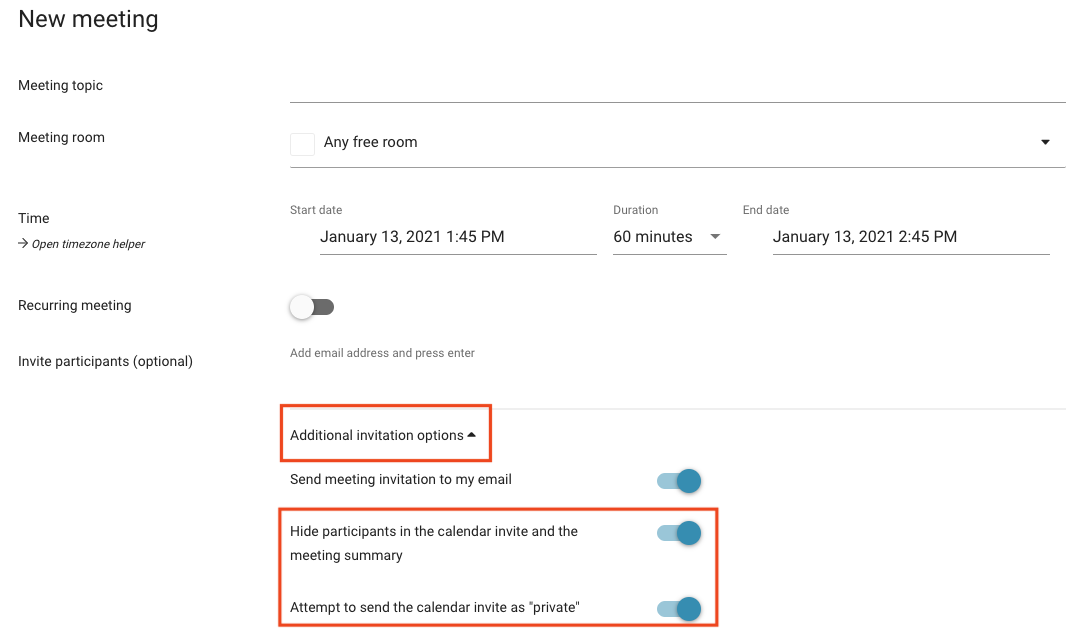 Meeting permissions
We have added a new role "Account member" to the meeting permissions in order to better grant access rights to meeting room features for organizers of the same account

We have added help texts to the meeting permissions to describe the available roles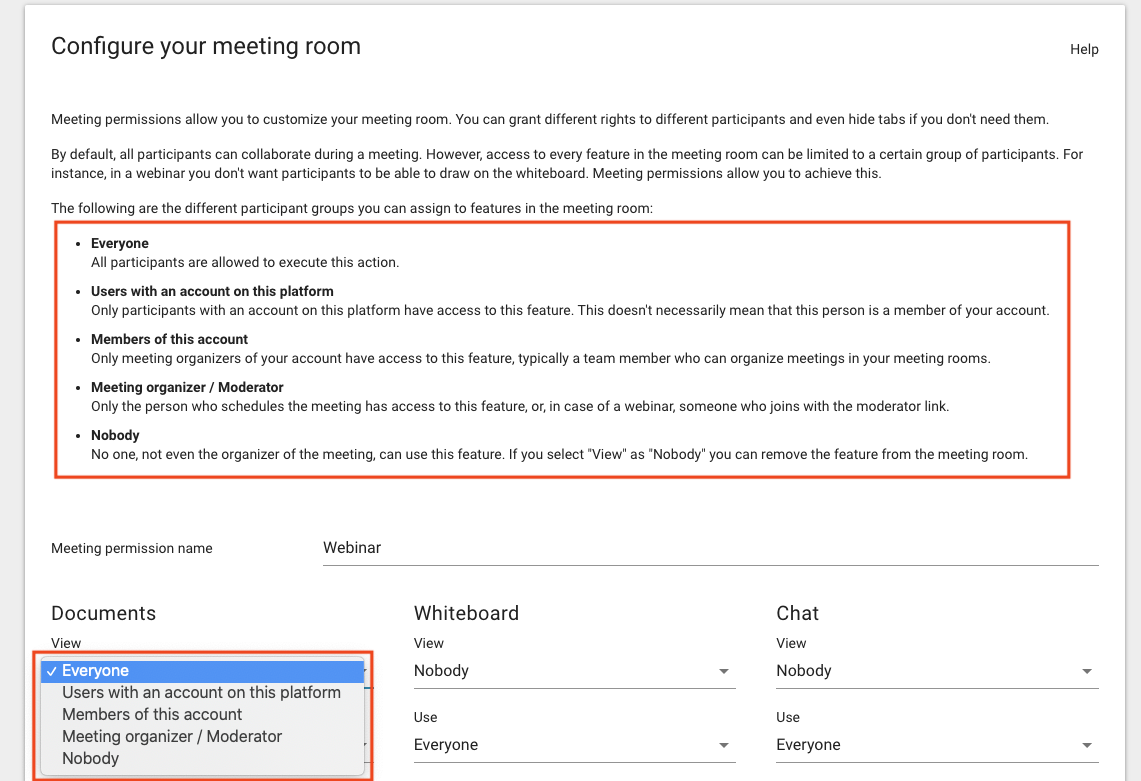 Integrations
We have further integrated into the Webcasting and Media Asset management platform of our partner xtendx (https://www.xtendx.com/en/). Both integrations need to be activated in the whitelabel admin section first before they can be activated by user.
We now integrate with Simplex Collector: all meeting summary documents can automatically be uploaded to Simplex Collector

We now better integrate with Simplex Webcasting: Simplex and Webmeeting accounts can be connected in order to display and manage Simplex projects directly from the webmeeting platform
Whitelabel admin
Whitelabels can now be classified as "for Events". This produces extra event reportings (concurrent users per day, concurrent rooms per day, etc)

You can now hide custom dial-in numbers in the web meeting platform

Added date picker to account management to define end date of an account (rather than "paid for X month")

You can now disable all meeting room sounds in the system settings

We have improved the search tool in account management

Various
We have added filters for Upcoming meetings

We offer smaller 16:9 video resolutions, not just 720p